Allen Y. Lew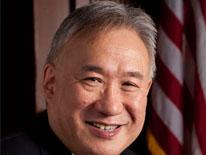 City Administrator
Allen Y. Lew stands at the forefront of innovative leadership that has prepared the District of Columbia for a new season of growth and stardom on the international stage. For over 18 years, he has demonstrated an on-time, on-budget, and no excuses performance over a range of municipal and public-private initiatives that impact government, business and civic life in the Nation's Capital.
He also has a history of bringing his past strategic leadership experience to new fields – sports management, labor relations, education and government operations– and successfully bringing positive results to challenging projects. In a word, Mr. Lew's time in the District of Columbia can be described as transformative. Often brought into ineffective or static situations, he changes the atmosphere and focus to prioritize what is best for the whole. He is also renowned for his negotiation, mediation and conflict resolution acumen.

Part of Mr. Lew's expertise as a leader stems from his ability to forge a strong team that works seamlessly. Mr. Lew creates an atmosphere that earns respect while also motivating colleagues to reach their potential and work tirelessly to accomplish their goals. Mr. Lew also has demonstrated his ability to foster strong relationships with foreign dignitaries, business, and labor leaders as well as regional and federal politicians alike. He has also been on the frontline spearheading sensitive issues with aplomb with local community leaders and residents.

Having served four Mayors in the District, Mr. Lew has a distinguished track record of directly managing approximately $5 billion worth of construction including an internationally acclaimed convention center, a major-league baseball stadium, public schools, parks and critical public infrastructure – changing the visible and unseen fabric of neighborhoods and public buildings.

As the City Administrator since 2011 he has managed the almost $10 billion government operations enterprise and over $7 billion of capital initiatives of the District government. Here he has also led major public infrastructure projects that are less visible, but no less critical to the city's future: flood control, a new streetcar system and a $1 billion undertaking to lower power lines underground to dramatically improve power reliability. He is credited with reshaping public agencies, developing balanced budgets and implementing innovative management reforms that improve performance and delivery of services. Most significantly, Mr. Lew deftly managed the District through the October, 2013 federal government shutdown. The District government remained open, workers and vendors were paid on time, and services were provided to residents.

Mr. Lew's work has been felt in every corner of the city, and highlighted in a December 2011 Washington Post article, "D.C. making repairs and responding to other service problems faster, analysis shows." He has also been awarded the 2014 Glenn Brown Award, one of the highest honors bestowed by the DC Chapter of the American Institute of Architects (AIADC) and the Washington Architectural Foundation (WAF). The award honors an individual who has raised public awareness of architecture and its benefits to society and who has improved the quality of life in Washington, DC.

Mr. Lew serves on a number of independent boards or special task forces, including: DC Water & Sewer Authority, Board Chair; Mayor's Power Line Undergrounding Task Force, Co-Chair; Mayor's Task Force on the Prevention of Flooding in Bloomingdale and LeDroit Park, Co-Chair; the Metropolitan Washington Council of Governments, Vice President/Board Member; and the Washington Convention & Sports Authority (now Events DC), Board Member; the Inter-Agency Council on Homelessness, Chairman; and the D.C. Streetcar Task Force, Chairman.

His appointment as City Administrator followed success in helping to dramatically transform the District of Columbia. In June 2007 he became Executive Director of the District of Columbia Office of Public Education Facilities Modernization, where he orchestrated over $3.5 billion of construction, renovation and stabilization work on D.C. Public School buildings. Many of those school projects have been hailed as sterling examples of urban academic architecture and have won awards for design innovation, construction excellence and environmental sustainability, with all buildings achieving LEED certification.

As Chief Executive Officer of the DC Sports and Entertainment Commission from 2004 to 2007, he managed the renovation of historic Robert F. Kennedy Memorial Stadium and the development and construction of the new Washington Nationals Ballpark. Mr. Lew also oversaw the operations of RFK Stadium as the interim home for the Washington Nationals baseball team from 2005-2007 and as the home of the DC United soccer team.

He began his Washington career in 1996 serving as the Managing Director of the Washington Convention Center Authority where he oversaw planning, development and construction of the award-winning, $811 million Washington Convention Center. In 2003 he was appointed Acting Chief Executive Officer and General Manager for the new convention center.

Mr. Lew's reputation as an innovative builder and problem solver was established in New York. From 1992 to 1994, he served as the Vice President of Capital Programs where he oversaw a $3.2 billion capital program for the New York City Health and Hospitals Corporation. From 1988 to 1990, he was Vice President of Rose Associates, Inc., a private commercial and residential development company. From 1983 to 1988, he served as the Executive Vice President and Chief Operating Officer of the New York Convention Center Operating Corporation (CCOC). In 1986 he was appointed Acting President and Chief Executive Officer of both CCOC and the New York Convention Center Development Corporation.

Allen Lew is a proud product of the New York City public school system. He graduated from Brooklyn Technical High School and earned a Bachelor of Science degree and a Bachelor of Architecture degree from The City College of New York. He also earned a Master of Science in Architecture and Urban Design degree from the Columbia University Graduate School of Architecture and Planning.