Allen Y. Lew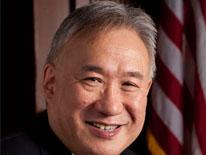 City Administrator
Allen Y Lew was appointed the City Administrator by District of Columbia Mayor Vincent Gray. He is a highly respected manager with over 25 years of executive-level leadership as an administrator, problem solver and trouble shooter in both private and public sectors.
He has served as the Executive Director of the DC Office of Public Education Facilities Modernization (OPEFM) where he dramatically affected the school construction program in the Nation's Capital. Since his appointment in June 2007, Mr Lew has orchestrated over $1 billion of construction and renovation work on DC Public Schools.
His accomplishments at OPEFM included: completion of five new schools; design and construction starts for 18 schools; heating system repairs in 129 facilities; electrical and air conditioning repairs at 109 schools; and the resolution of outstanding work orders and health and safety code violations.
Hundreds of schools have received much needed attention, from painting to long overdue roof repairs and window replacements. Additionally, dozens of school playgrounds and athletic fields have been totally rebuilt and 29 schools were either completely reconfigured or substantially rehabilitated.
The District of Columbia has also turned to Mr Lew to tackle other difficult District projects including the renovation of numerous recreation facilities, including the stunning Ward 3 Aquatics Center for DC Parks and Recreation, the adaptive reuse of a historic school for use by the Metropolitan Police Department's First District Headquarters and recently overseeing the renovation of a University of the District of Columbia facility for use as an interim high school.
From 2004 until 2007, Mr. Lew was the chief executive officer of the DC Sports and Entertainment Commission where he managed the renovation of historic RFK Stadium and the development and construction of the new Washington Nationals Baseball Stadium. Mr. Lew also oversaw the operations of RFK as the interim home for the Washington Nationals from 2005 to 2007.
From 1996 until 2004, Mr Lew served as the managing director of the Washington Convention Center Authority where he oversaw planning, development and construction of the award-winning Washington Convention Center. In 2003 he was appointed acting chief executive officer and general manager for the new convention center. Under his leadership, the new facility operated seamlessly and the District hosted significantly larger conventions and trade shows.
Mr. Lew's reputation as an innovative executive was established in New York. From 1992 to 1994, he served as the vice president of capital programs for the New York City Health and Hospitals Corporation. From 1988 to 1990, he was vice president of Rose Associates, Inc., a private commercial and residential development company. From 1983 to 1988, he served as the executive vice president and chief operating officer of the New York Convention Center Operating Corporation. In 1986 he was appointed the acting president and chief executive officer of the Operating Corporation and the New York Convention Center Development Corporation.
Allen Lew is a product of the New York City public school system. He graduated from Brooklyn Technical High School, earned a Bachelor of Science degree and a Bachelor of Architecture degree from the City College of New York School of Architecture. He also earned a Master of Science in Architecture and Urban Design degree from the Columbia University Graduate School of Architecture and Planning.