100 Resilient Cities - DC
Mayor Muriel Bowser has established a District Office of Resilience within the OCA to coordinate the city's strategic investments and scale-up innovations that better prepare us for disasters and lessen the impact of chronic social stresses. These stresses, which include problems like affordable housing shortages and economic inequity, are some of our most difficult challenges as a growing urban city. DC's approach to resilience will in part be to develop our capacity to adapt, learn and grow in ways that improve and safeguard lives and increase opportunities for our residents.
The District's efforts in this area come after being inducted into 100 Resilient Cities (100RC) – a prestigious global network pioneered by the Rockefeller Foundation that spans North America, Africa, Latin America and the Caribbean, Europe, the Middle East, Oceania, and South, Southeast and East Asia. Through this program, the District of Columbia will select a Chief Resilience Officer (CRO), who will be responsible for working across District government and with area stakeholders to build and execute a Resilience Strategy.
The 100RC Network
100RC plays a key role in helping cities plan for more integrated solutions to the challenges posed from globalization, urbanization, and climate change – including important social and economic impacts.
The 100RC Network also provides member cities with greater than $200 million in direct support from the 100RC Platform of Partners, which provides critical tools, services, and technical assistance from organizations like Swiss Re, Microsoft, the World Bank, and the International Rescue Committee.
Broadening the Conversation on Resilience
The District initiative will begin with a city-wide conversation on resilience with residents, non-profits and partners in the public and private sector. That will include a major resilience-focused stakeholder conference in Fall 2016. Information about this program and how to get involved will be forthcoming.
The District is also looking to enhance and unify efforts across government that are providing leadership in resilience including the DC Office of Planning's upcoming amendment of the Comprehensive Plan, DC Department of Health's past "Resilient DC" initiative, several major initiatives in planning and mitigation led by DC Homeland Security and Emergency Management, the Department of Energy and Environment's Climate Adaptation plan and other efforts.
Harrison Newton Director, 100 Resilient Cities Launch
Harrison Newton is the chief manager responsible for launching the District's 100 Resilient Cities program and establishing a focus on resilience within the Office of the City Administrator. He leads a strategic launch team including senior representatives of the Deputy Mayor for Greater Economic Opportunity, the Deputy Mayor for Health and Human Services, the DC Homeland Security and Emergency Management Agency and the DC Departments of Energy and Environment (DOEE), Health (DOH), Planning (OP) and Housing (DCHA).
Newton helped lead the development of the District's successful application to the 100 Resilient Cities network and has a strong history of developing programs that work across agency boundaries to make residents more resilient. Prior to coming to OCA, he was the Associate Director of the Efficiency and Affordability Division at DOEE. There he led an effort to modernize and develop strategic priorities for programs that help thousands of DC residents control their energy costs.
He also served in DOEE as the Chief of the agency's Lead and Healthy Housing Branch, creating the city's award-winning "Partnership for Healthy Homes." The Partnership improves the condition of hundreds of DC residents' homes every year by linking healthcare providers, legal support organizations and social service networks to innovative approaches in hazard remediation.
Earlier in his career in public service, Newton directed a suite of environmental health programs in multiple cities along the East Coast, focusing on protecting children with disabilities and other at-risk populations. As the leader of a coalition of non-profits focused on lead poisoning, he also played a leadership role in the passage of the District's lead poisoning prevention law and also worked on projects increasing the capacity of healthcare clinics to respond to disasters.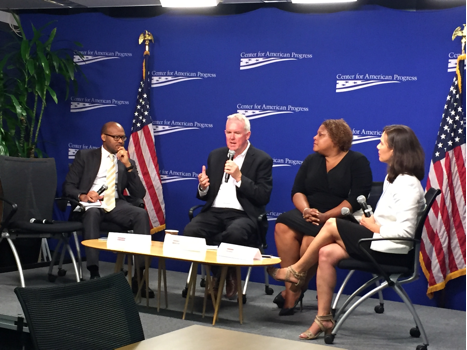 White House Champions for Change, Resilience Roundtable on Climate Equity