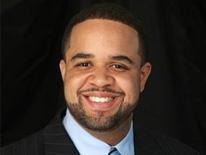 City Administrator
On January 2, 2015, Rashad M. Young, Mayor Muriel Bowser appointed the City Administrator of the District of Columbia – a title that carries the responsibility of managing a workforce of nearly 35,000 employees, a budget of nearly $15 billion, and an aggressive goal of ensuring efficient, accountable, well-managed service delivery to District residents.
As city administrator, Rashad is responsible for managing the District's budget and long-term financial management. Under his leadership, Mayor Bowser has been able to successfully petition Moody's for an increase in the District's credit rating to AAA, placing the city among the highest-rated large cities in the country. Rashad also lead the charge to bring forward the Mayor's most aggressive policies including the closure of large-scale family shelters and the establishment of small, service-oriented, short-time family housing facilities across the city, the expansion of subsidized public transportation for all District students, and the complete redevelopment of the District's southwest waterfront.
Within the District, Rashad is credited for the introduction of a District-wide effort to integrate performance management and evidence-based decision making into the culture of District Government. His work is evident in the District's performance-based budgeting processes, its renewed vigor around data collection and performance, and the establishment of The Lab @ DC.
Rashad has spent his entire career building expertise in public management as an assistant city manager or city manager in urban centers, namely Alexandria, Virginia, Greensboro, North Carolina, Cincinnati and Dayton, Ohio. He has managed workforces totaling several thousand employees, led labor union contract negotiations, and overseen airport, convention center, water utility, human service, transit, public works, and public safety agency operations.
Rashad is a National Board Member of the National Forum for Black Public Administrators, a Fellow of the National Academy of Public Administration, and an Affiliated Professor of Practice with Virginia Tech's School of Public and International Affairs.
Rashad is married to the lovely Tameka Young and they have two sons.
He lives daily by a personal creed introduced to him as a student at the University Dayton—Learn. Lead. Serve.