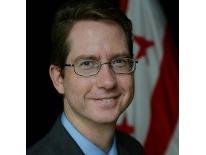 City Administrator
Appointed by Mayor Muriel Bowser in January 2015 as the Deputy City Administrator and the Deputy Mayor for Public Safety and Justice, Mr. Donahue was appointed as the City Administrator in January 2021.

During Mayor Bowser's first term in office, Mr. Donahue oversaw the District's public safety agencies, as well as the operations and internal support functions of government. This span of responsibility included the Metropolitan Police Department (MPD), Fire and Emergency Medical Services Department (FEMS), Office of Neighborhood Safety and Engagement (ONSE), Department of Forensic Sciences (DFS), Department of Corrections (DOC), Homeland Security and Emergency Management Agency (HSEMA), Office of the Chief Medical Examiner (OCME), Office of Unified Communications (OUC), Office of Victim Services and Justice Grants (OVSJG), Department of Public Works (DPW), Department of Motor Vehicles (DMV), Department of General Services (DGS), Office of the Chief Technology Officer (OCTO), Office of Contracting and Procurement (OCP), Department of Human Resources (DCHR), and Office of Risk Management (ORM). During Mayor Bowser's second term, Mr. Donahue has focused more exclusively on the District's public safety, criminal justice, and emergency response portfolio.

Prior to joining the Bowser Administration, Mr. Donahue served as Director of the federal government's Performance Improvement Council. In that role, he led the implementation of federal policies on using data and performance management to improve government services. Previously, Mr. Donahue worked at the General Services Administration, serving as Senior Advisor to the Administrator, and at the US Department of the Treasury, serving as the Senior Advisor to the Assistant Secretary for Management and Chief Financial Officer. Mr. Donahue previously served in the District Government under Mayor Adrian Fenty, as Director of the CapStat program.

Mr. Donahue received a Bachelor of Arts in Government from Georgetown University and a Master of Public Administration from Harvard University. A 30-year resident of the District, Mr. Donahue lives in Ward 4 with his wife and two children.