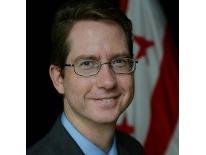 City Administrator
Appointed by Mayor Muriel Bowser in January 2021, Kevin Donahue serves as the City Administrator for DC Government, overseeing the day-to-day operations, setting performance metrics and goals, and implementing legislative actions and policy decisions of the Mayor and the DC Council.

As the City Administrator, Mr. Donahue led the District's response to the COVID-19 pandemic by implementing a whole-of-government process to ensure cross collaboration, prompt decision making, and effective communications. Additionally, he advised the Mayor on the creation of two new offices to support the District's fight against gun violence and to identify strategies for implementing a more equitable infrastructure within DC Government.

Mr. Donahue's career in the Bowser Administration began in January 2015 when he was appointed to serve as the Deputy City Administrator and the Deputy Mayor for Public Safety and Justice. During his tenure, he launched The Lab@DC, a team of scientists who use data to analyze how well government is working. As the Deputy Mayor for Public Safety and Justice, he led the oversight of the transformation of the District's Department of Fire and EMS, and launched the Office of Neighborhood Safety and Engagement to create innovative intervention programs and community building initiatives that support a safer, stronger DC.

Mr. Donahue received a Bachelor of Arts in Government from Georgetown University and a Master of Public Administration from Harvard University. A 30-year resident of the District, Mr. Donahue lives in Ward 4 with his wife and two children.