New building includes full-service restaurant and offices for Ward 8 nonprofit delivered by District's $13 million investment and support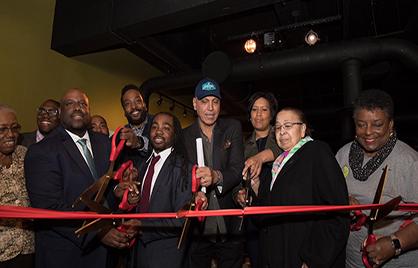 (Washington, DC) –Today, Mayor Muriel Bowser celebrated the grand opening of the new Busboys and Poets Anacostia, part of an innovative District project that is transforming a vacant building into the new home for the nonprofit Far Southeast Family Strengthening Collaborative (FSFSC) and delivering new jobs, opportunity, and amenities to residents of Ward 8.
"Today's ribbon cutting is another sign of my Administration's commitment to listening to residents, answering the call, and supporting and investing in neighborhoods across all eight wards," said Mayor Bowser. "Today, we delivered a long-awaited, long-requested amenity – a new full-service restaurant in historic Anacostia – made possible by critical investments that will continue to encourage economic development and create more opportunities that benefit local residents."
The state-of-the-art facility was made possible by District gap funding, including a $3 million grant funded by the Mayor, $8 million in revenue bonds from the Office of the Deputy Mayor for Planning and Economic Development, and over $2 million from the DC Property Assessed Clean Energy (PACE) financing program administered by the DC Department of Energy and Environment and Urban Ingenuity. This innovative project is the first in the nation to use PACE funding along with tax-exempt funds to drive down energy bills and lower the cost of building improvements for non-profit organizations.
"I want to thank Mayor Bowser, Andy Shallal, and Perry Moon for the shared vision to increase the amenities in Ward 8," said Ward 8 Councilmember Trayon White. "This is big for our community because it's what we need and was a collaborative effort. I'm excited to dig into my favorite chicken panini and sweet potato fries. Let's go Ward 8!"
This is the first Busboys and Poets restaurant east of the Anacostia River, and includes a full-service restaurant, bookstore, event space, and hospitality training center.
"We are thrilled to be part of the Ward 8 Anacostia community and we look forward to working closely with our neighbors in a variety of ways," said Andy Shallal, Busboys and Poets owner. "Busboys and Poets Anacostia will showcase the works of local artists from Southeast DC and hire over 80 local residents. We are proud to bring good jobs with benefits and opportunity for growth for the hospitality industry in DC."
FSFSC is a DC-based non-profit serving children and families in the Ward 8 community. At completion, the building will be home to a new 20,000 square-foot facility for FSFSC's new offices.
"We are excited and humbled by the partnerships that we have forged with Mayor Bowser and Busboys and Poets to bring this important project to the residents of Anacostia and Ward 8," said Perry Moon, FSFSC Executive Director. "Our mission and service offerings will be greatly enhanced by the new space and amenities of the new restaurant."
"Marion long envisioned economic revitalization and prosperity for Ward 8 residents, who he truly loved," said Cora Masters Barry, widow of the late four-term Mayor Marion Barry. "It brings me great pride as a Ward 8 resident to see his vision become a reality with yet another popular business opening here. I thank my friends Mayor Bowser and Andy Shallal for their support of this community and for dedicating a special room in the restaurant to my husband."
Mayor Bowser was also joined at the ribbon cutting by new Busboys employees, Mayor Marion S. Barry Summer Youth Employment Program participants, and Ward 8 residents.